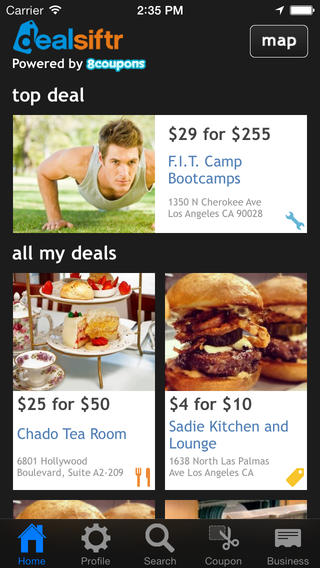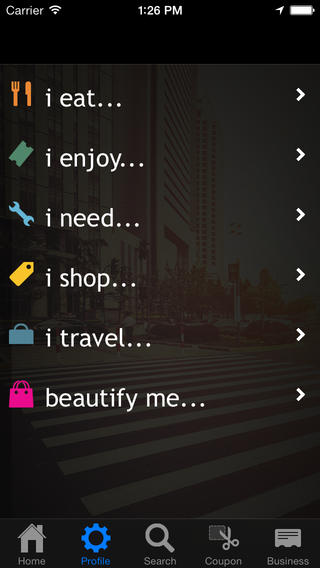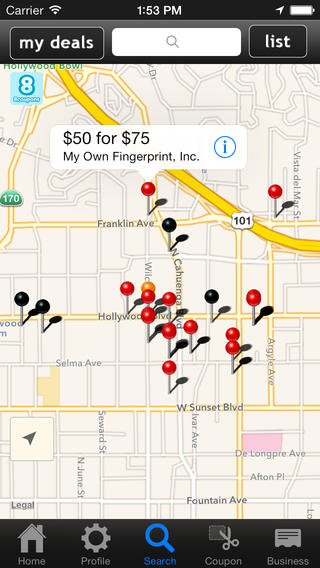 Powered by Bulletin, DealSiftr is a free app for iPhone that delivers personalized deals and coupons to you, right when and where you need them.
Simply fill out your personal profile to tell DealSiftr exactly what you're looking for. Then, let it serve up only the best, most relevant daily deals straight to your phone. Whether you're shopping for sporting goods, new furniture, or travel packages, DealSiftr provides you with unbeatable offers from Yelp, Restaurant.com, Amazon Local, and other location-based social networks.
DealSiftr integrates with your phone's GPS to sift through deals and only present local offers that fit your personal profile. Every deal can be redeemed straight from your phone.
With the DealSiftr iOS app, you can:
Purchase deals on the go for immediate use
Redeem coupons directly from your device
See all deals around you in both list and map view
Only receive deals that fit your personal profile
Choose your favorite deal categories
Search for local deals of any type
Use DealSiftr to find bargains for the best places to eat, best stores to shop, and best things to do in your area.
Ready to start receiving personalized deals and coupons just for you?  Download on the Apple App Store today!